The Equipment Related Business
Quartz Products
Ultra-High Purity Glass,
Tough against Heat
and Chemical Changes
The semiconductor manufacturing process involves frequent treatments of high heat and chemicals. Coming into play here are quartz products composed of ultra-high-purity silica glass. Whether it is in the thin film generation and diffusion process, or as jigs and consumables in the transport and cleaning process of wafers, our quartz products play an important role in the processing of increasingly thinning and high purification semiconductors.

Please contact :
Ferrotec Europe GmbH
Mr. Gaetano Basile
Sales Manager Europe
T: +39 0398 9015 79
M: +39 335 8000642
E: gbasile@de.ferrotec.com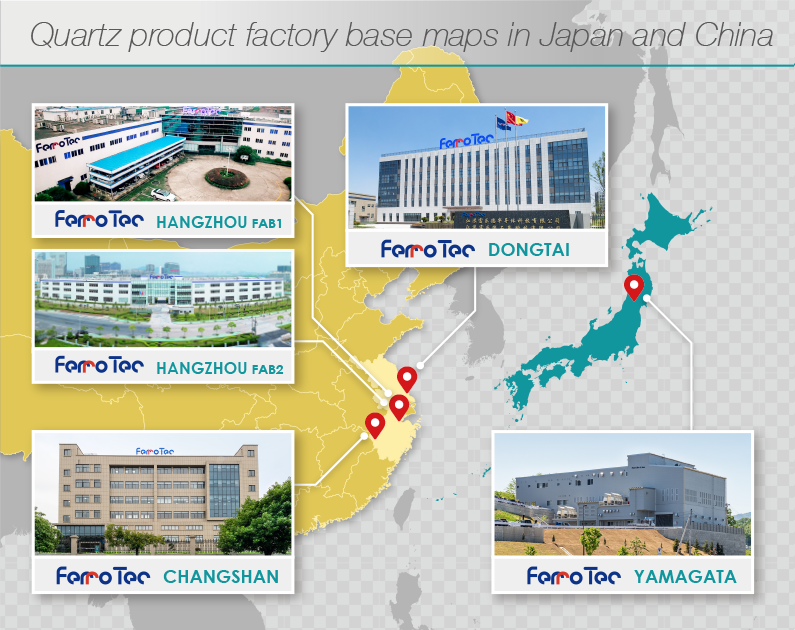 Business Group of Quartz Products
Ferrotec
Hangzhou
Hangzhou Hangzhou dahe thermo-magnetics Co.,Ltd.
Adress
FAB1
777 Binkang Rd, Binjiang, Hangzhou, Zhejiang, China 310053.China

Map
FAB2
668 Binkang Rd, Binjiang, Hangzhou, Zhejiang, China 310053.China

Map
Ferrotec
Dongtai
Dongtai Ferrotec(Jiangsu)Quartz Technology Co.,Ltd.
Adress
18# Hongda Road, Chengdong New Zone, Dongtai, Jiangsu, P.R. China

Map
Ferrotec
Changshan
Changshan Zhejiang Advanced Precision Co.,Ltd.
Adress
No.7,Xindu Industrial Park,Changshan City,Xuzhou,Zhejiang

Map
FerroTec Alion
Yamagata
Yamagata Fetrrotec Alion Co.,Ltd.
Adress
1-1-58, Shoei, Yamagata-shi, Yamagata, 990-2473, Japan

Map
Industries that use these technologies
Detailed Information on this Technology
Ferrotec USA

Ferrotec Fabricated Quartz Solutions

Web
Manufacturing Bases
Case Examples of Quartz Product
CVD Equipment

CVD, or chemical vapor deposition, is one technique for making thin films. Gas containing components needed for different membranes are exposed to heated substrates, resulting in the deposition of a membrane by chemical reaction on the substrate surface.
Etching Equipment

Etching is a surface processing method that uses the corrosive effect of a chemical solution or reactive gas. In semiconductor manufacturing it is used as a method to remove thin films in the patterning process of wafers. There is dry etching, which uses gas turned into plasma to accelerate ions to scrape away film by scientific reaction, and wet etching, which utilizes the corrosive effects of acid and alkali.