Audio
&nbsp
Currently, the mainstream in audio speakers are full range middle sized speakers. Despite the digitization of sound sources like CDs and amps, the exiting sound we hear has remained analogue.Advances in technology have helped audio equipment fulfill its role of faithfully reproducing sound.
Our ferrofluid is partly responsible for making this happen.
Ferrofluid

Audio speakers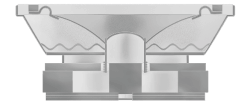 When ferrofluid is inserted into internal speaker voice coils, maximum permissible input rises, frequency characteristics improve, distortion effects are reduced, and overall better sound quality is obtained. These are now increasingly being used in car audio and 4K TV speakers.
The Equipment Related Business
&nbsp
Electronic Device Business
Photovoltaic Related Products
Other Related Business
&nbsp